Somerset, England. Trainee veterinarian Clover Catto (ELLIE KENDRICK, Game of Thrones)?returns to the farm where she grew up after hearing news that her brother Harry has died?an apparent suicide. Finding the family home in ruins following recent floods that devastated the area, Clover is forced to confront her?difficult?father Aubrey ? about the farm, the livestock and, crucially, the details surrounding Harry?s death.?As the funeral approaches Clover?s discoveries?send her on an emotional journey of reckoning – with the land, her family and herself.
Taking the lead role as?Clover, Kendrick demonstrates a great deal of poise for a role that requires both nuance and expressiveness. ?She presents Clover?with?quiet?grief as she deals with?the death of her brother and yet she also hides an inner rage towards her family and circumstances. Similar to the film's rural landscape, Clover's life is giving way from underneath, burdened by the weight of family secrets and lies.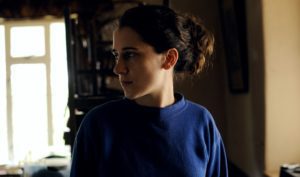 There is focus in her eyes and?fire in her heart.
Structurally, the film almost plays out as a hybrid between family drama and mystery thriller as Clover inches closer to the truth surrounding her brother's death. Using very little music, the film maintains it's brooding tone through intentional silence.
One of the biggest surprises of the week, THE LEVELLING offers solid performances from the entire cast but it's Kendrick who really holds the film together. This is a film about the damage caused by family and the process of restoration and it knows exactly what it wants to accomplish.
Like their farm, Clover is collapsing from within.
For our exclusive interview with Ellie Kendrick,?click below!