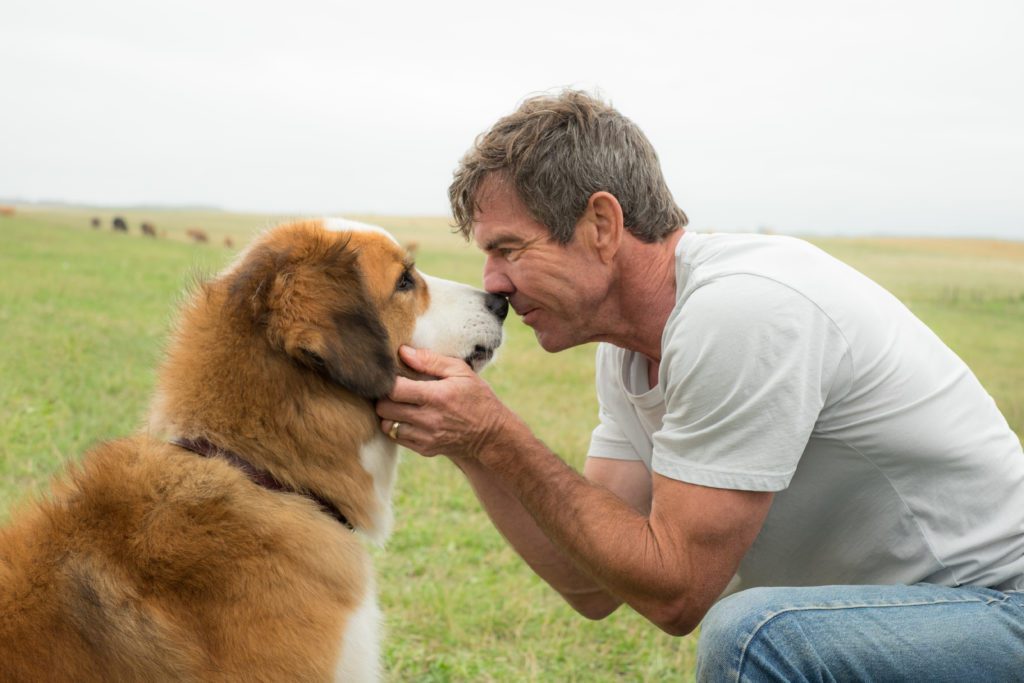 Growing up, I remember dogs were always a part of the daily activities at my house.? In the early years, there was a black Labrador who lived in our backyard and loved to play with the neighborhood kids.? Middle school brought a tan dachshund to the mix?she liked everyone in the family–except me. In high school, I found my companion in the form of Fred, a beagle named after the basset hound in Smoky and the Bandit due to his looks. He followed me everywhere and slept on my bed at night.? Leaving for college without him was bittersweet, but he always remembered me when I returned for holiday visits.? He passed away a number of years ago, but the memories and companionship he brought me live on today.
Into this theme of companionship comes a new film from Universal and Walden Media called A Dog?s Purpose.? You might have heard about it recently, as an online video surfaced that suggested animal cruelty happened on set.? PETA reacted predictably and called for a boycott of the film, but I?m here to say there?s no reason to avoid attending for that reason (by the way, this article by one of the film?s producer explains the whole thing and is quite interesting). ?In fact, although extremely melodramatic, A Dog?s Purpose is a decent film and showcases companionship in a touching way.
In the story based on the book by Bruce Cameron, we see life portrayed through the eyes of a dog (voiced by Josh Gad).? Actually, that should be lives, as the dog?s first iteration finds him as a stray and caught by animal control before being euthanized.? Before he can determine what his purpose is, he?s back as a puppy and eventually escapes from a cage.? Two guys find him and leave him in a truck with the windows closed on a hot day.? Thankfully, a lady (Juliet Rylance) breaks the window and rescues him.? After a discussion with her husband (Luke Kirby), their son Ethan (Bryce Ghesiar) has his first dog and names him Bailey.? The two are inseparable, although Bailey gets out of control one night at dinner and ends up costing Ethan?s father a job?and eventually, his family due to alcoholism.
Ethan grows up (now played by KJ Apa) and Bailey indirectly helps him find Hannah (Britt Robertson), and a relationship begins.? Bailey doesn?t understand a number of things that happen later, such as why Ethan leaves for college and why he breaks up with Hannah.? But he?s fiercely protective to the end.? And when that happens, there?s a pause, followed by a new life to live as another dog.? The canine goes through lives as a female police dog, a smaller companion for a college student, and a St. Bernard look-alike that finds his way back to an old farm house and runs into Ethan (Dennis Quaid), who doesn?t recognize him. The ending is neatly tied up and is reminiscent of something airing on the Hallmark Channel, but dog lovers might find themselves wiping away tears by then.
Director Lasse Hallstrom (Who?s Eating Gilbert Grape) keeps the film going at a good clip, keeping the distractions to the story to a minimum.? The whole concept of a dog bouncing through multiple lives is a topic worthy of a later discussion, but it?s handled tastefully and quickly each time.? The soundtrack isn?t particularly memorable, but in this case, that?s a good thing. ?In my opinion, the acting is a bit uneven, mainly due to having so many different lives to account for on the part of the dog.? And, outside of the melodrama, the biggest issue I had with A Dog?s Purpose?s involved characterization.? Not of the dogs, mind you, but of the humans portrayed in each section.? Only Ethan is fully conceptualized; the others need more background?why for example, did the police officer live by himself?? We see a picture of him and his wife (daughter?), but nothing else is offered. More characterization would help to increase the power of the bond between human and canine.
And that is really the biggest takeaway from the film for me. When man was created, God realized he needed something. ?It is not good for the man to be alone,? he said (Genesis 1:18).? In this case, he created the woman, but the loneliness and companion factor are important for humanity.? Nobody wants to be alone forever, having nobody to talk to or shower love on them.? Perhaps this is why dog owners are so fiercely protective of them, even calling them part of their family?they?re friends who stick closely by through the good and bad times??closer than a brother,? in fact (Proverbs 18:24).
A Dog?s Purpose offers a look at why canines are referred to as man?s best friend.? They provide more than companionship and love to their masters?they exude hope, courage, loyalty, and strength.? These are fantastic qualities each of us should seek to embody in our lives. Perhaps the film will help a person do just that?thanks to a little bit of wisdom from a dog.
Special features on the Blu-ray and DVD available now are deleted scenes, outtakes, and two featurettes, "Lights, Camera, Woof!" that looks behind-the-scenes and "A Writer's Purpose" that shares about W. Bruce Cameron (writer of the novel and screenwriter of the film).?