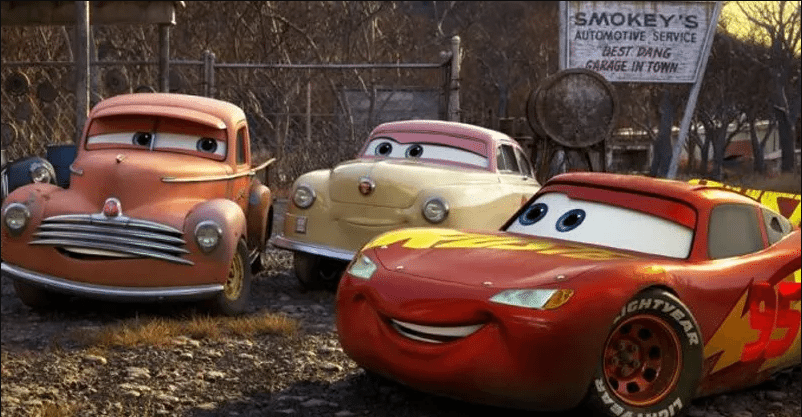 The film Cars opened with a blank screen as Lightning McQueen pumped himself up for the upcoming race: ?Speed.? I am speed.?
The film Cars 3 opens with a blank screen as Lightning McQueen pumps himself up for the upcoming race: ?Speed.? I am speed.?
If there?s nothing else you take from this review, know that the third installment of the Pixar animated series returns to its original roots, eschewing the 007-like escapades of the second film.
I?ve always been a fan of the anthropomorphic cars, but always felt cheated that the second film was more about the wisecracking sidekick Mater than Lightning and his role in the Cars universe.? Our Steve Norton felt the same way and recently posted a list of items that would make the new film a good one.? Happily, this version brings back the whimsy, excitement, and fun, along with a darker theme that will resonate with adults.? It?s pretty formulaic and sputters in places, but is still worth a theater viewing.? The kids, of course, will eat it up regardless of when and where they see it.
As I mentioned, the plot is reminiscent of the original film.? Lightning (voiced by Owen Wilson) is still quite successful on the Piston Cup tour and has even found a few friends along the way.? But he?s straight up blindsided in a race when Jackson Storm (Armie Hammer) comes out of nowhere and wins, setting up a seven-race winning streak.? Jackson is part of a new generation of cars that are able to drive faster and train better than Lightning, forcing the older generation to retire.? Of course, Lightning wants to win at all costs, so he pushes himself to the limits in the last race of the season?and violently crashes (this scene caused one kid in the viewing to scream ?Oh, no!? in panic).
Lightning has to figure out what to do, and instead of doing something, he throws a pity party in Doc Hudson?s garage.? Hudson (the late Paul Newman) ?died,? so Lightning is left with the lovable cast of characters in Radiator Springs to encourage him to keep going.? A phone call from the owners of the Rust-eze team convince him to train at their new facility in Florida, so he heads out and finds a state-of-the-art facility, spearheaded by new owner, Sterling (Nathan Fillion). Sterling loves Lightning, but secretly believes his days are up, seeing him as a way to market all sorts of products.? However, Lightning wants to keep racing and is willing to use the fancy technology to get faster, including a fancy high speed simulator.? The trainer for all the cars is a shiny yellow speedster named Cruz Ramirez (Cristela Alonzo), who sees Lightning as her senior project.? When things don?t work out in training, Sterling gives Lightning one chance to win?or retire to the life of a marketer.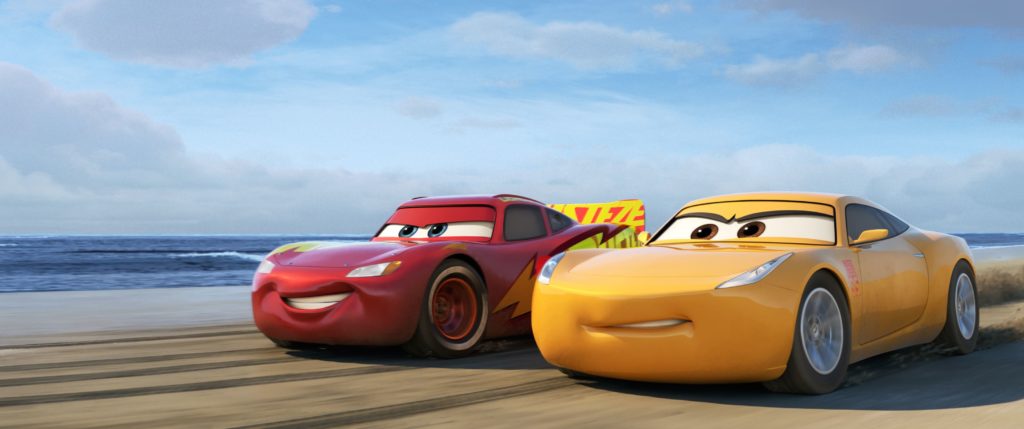 Cruz comes along for the ride and endures the life of a car in a demolition derby where Miss Fritter (Lea DeLaria), a school bus on performance-enhancing-fuel (okay, not really), runs the show?and even steals the spotlight from Lightning and Cruz. Soon, Lightning realizes that Doc Hudson had to have a mentor, so he and Cruz travel to Thomasville GA to find Smokey (Chris Cooper), an old truck reminiscent of Mater (Larry the Cable Guy).? Once there, Lightning makes a discovery that may change his life.? Perhaps the race in Florida means more than anyone thought possible . . .
As always, Pixar continues to push the limits of technology with their animation, which is jaw-droppingly photorealistic throughout. While Cars 3 returns to the ways of the first film, it doesn?t quite reach its level of fun. ?Laughs aren?t as prevalent and the subject matter is darker (the crash, for example).? You?re not going to hear Lightning yell ?Ka-chow!,? but at least the tractors make a return. ?Cruz is a fantastic addition to the ecosystem and little girls will gravitate to her character.? I also appreciated the nods to the first film?especially the loving tributes to Doc Hudson.? Chick Hicks (Bob Peterson) is still obnoxious and smacks Lightning down every chance he gets.? Thankfully, Mater is relegated to a minor character, as he?s best in small doses. But Sally (Bonnie Hunt), Lightning?s romantic interest, is basically a throwaway character for the second consecutive film.? This was an opportunity wasted.
Director Brian Fee provides a story replete with themes of overcoming obstacles, thinking outside the box, the need for others, and empowerment.? Regarding the need for others, it?s important to have people in your life who can laugh with you, cry with you, cheer you up, and push you to be the best you can be. The Bible has something to say about this topic in the book of Ecclesiastes: ?Two are better than one because they have a good return for their labor.?For if?either of them falls, the one will lift up his companion. But woe to the one who falls when there is not?another to lift him up? (Ecclesiastes 4:9-10 NASB).? In the case of Lightning and Cruz, the two create a symbiotic relationship that pays dividends for each before the film?s credits roll. Without each other, the two fail in their individual pursuits and goals.? It?s a great reminder for us in our fast-paced, hectic lives.
There is an animated short before the film entitled Lou that will bring back memories of the schoolyard bully.? It?s well done (as the shorts tend to be). And don?t forget to stay through the credits!