Recently, Steve Norton and I were lucky enough to attend an advance screening of The Big Sick in Toronto, which had two surprise guests ? Kumail Nanjiani and his wife, Emily V. Gordon!
This film had already been released in select cities in the States at the time of the advance screening, and will have a?wide release?this weekend.? This particular independent film just keeps expanding, and it?s not difficult to see why.
Based on the true story of Kumail Nanjiani and his wife, Emily Gordon, The Big Sick gives us a?glimpse into how they met, their cultural differences and the life altering experience they went through. ?Written by Nanjiani and Gordon themselves, this film was directed by Michael Showalter and produced by Judd Apatow and Barry Mendel. ?Premiering at the Sundance Film Festival on January 20, 2017, the film next won the Audience Award: Festival Favourites at South by Southwest in March.
If you?re unfamiliar with Kumail Nanjiani, he is a stand-up comedian and actor.? He?s currently on the HBO comedy series, Silicon Valley.
This movie has a fantastic cast. ?Each actor captured the essence of their character extremely well.? Zoe Kazan plays Kumail?s girlfriend, Emily Gordon.? Holly Hunter and Ray Romano are cast as Emily?s parents; and Zenobia Shroff and Anupam Kher as Kumail?s parents.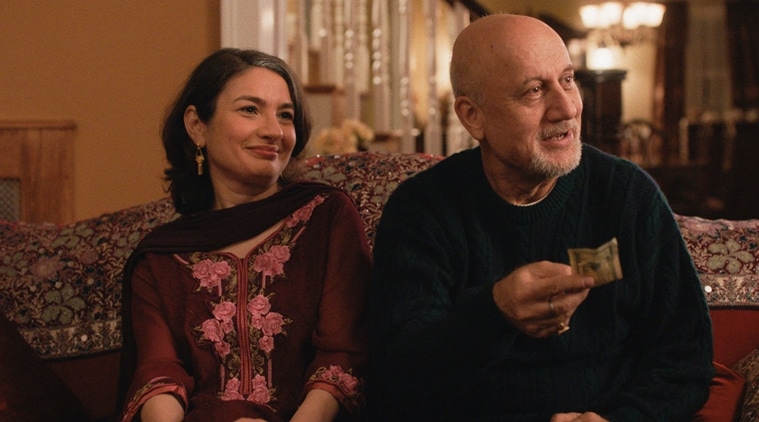 Fun fact: We found out at the Q&A that Kumail asked his father in real life who he wanted to play him in the movie.? He said Anupam Kher, who is a big Hindi film star.? They didn?t think it was possible but asked anyway. ?Anupam said yes!? And this was his 500th movie! ?(Incidentally, the film legend was also in the American film, Silver Linings Playbook).
The Big Sick takes us on Kumail and Emily?s journey of courtship, including navigating their cultural differences and what their parents expect of them.? During a rocky period in their relationship (in fact, they were broken up at the time), Emily fell ill with a very serious infection.? The doctors needed to put Emily into a medically induced coma and had to operate to remove the infection. ?Emily was in a coma for 8 days.? She was diagnosed with adult-onset Still?s disease which is a rare form of inflammatory arthritis that can seriously affect your organs, if left untreated.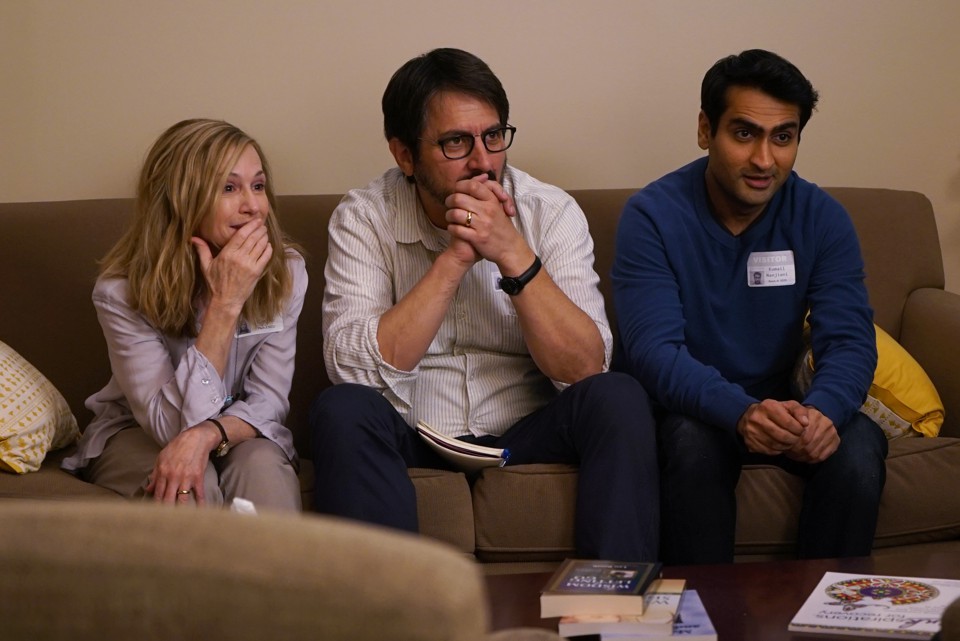 While Emily was in a coma, Kumail was at the hospital constantly, anxiously awaiting news of her condition and hoping she would be able to wake up soon.? During this time, Kumail had many interactions with Emily?s parents, who were not his biggest fans.? But as time went on, they got to know each other better and they realized that Kumail was in love with Emily and had nothing but the best of intentions.
Simultaneously, Kumail?s parents, who are devoted Muslims, were trying to arrange for a Pakistani woman that Kumail could marry.? On every visit to his parent?s house, Kumail had to meet a new woman.? He was also expected to pray to Allah.? This presented a huge conflict for Kumail as he was in love with Emily and his parents didn?t even know it.? He was also struggling with his faith and trying to figure out what he believed.
This movie raises so many intense topics. ?While they were very honest about these subjects, they were also very respectful.? During the Q&A we attended, Kumail spoke about the effort that was made to cover the different perspectives without making it seem like one perspective was right or?wrong.? I found it to be very inclusive of different points of view.
One of the first themes I picked up on was traditionalism.? Kumail and his family are from Pakistan and he was raised Muslim.? He was expected to pray daily and have his marriage arranged by his parents.? His brother?s marriage was arranged and Kumail received encouragement from him to follow the Muslim traditions.? Kumail lived a fairly western life in that he did not wear traditional clothing, he dated non-Muslim women and he chose an unconventional career ? stand-up comedy.
I also noticed some stereotypes.? For a good portion of the movie, Kumail?s family appear to portray a stereotypical Muslim family and they?re almost made to be a joke (which is not unexpected given that at the core, this is a comedy film).? But there is a scene where Kumail confronts his parents with his truth and we finally get to see a more serious side of them.? We get a sense of their struggle and what they had to go through to give their children a good life.? Kumail?s mother said she hadn?t seen, I believe, her mother in over a decade.? And his father had to completely retrain in his occupational field when he came to America.
Kumail?s confrontation to his parents was largely about his faith, or lack thereof.? He admitted that he hadn?t been praying.? He would go to the basement and play video games during prayer time.? He admitted that he did not want an arranged marriage and, in fact, had been dating an American. ?He told his parents that he needed to figure out what he believed on his own.
Another aspect was that Kumail was often judged based on the way he looks.? In the film,?he's heckled on stage with racial slurs telling him to ?go back to ISIS?.? Although Kumail says this particular scene didn?t happen in real life, he has actually been racially heckled on numerous occasions.
Lastly, there is a large theme of family in this film.? There is a striking scene close to the end of the movie which happens after Kumail confronted his parents and had been kicked out of the family.? Here, he returns to his parents house and tries to pretend everything was the same as it used to be by talking about how he refused to be kicked out of the family. (After all, no matter what, 'they?ll always be family'.) ?He promises to never give up on them and refuses to let their differences ruin their relationship. ?For Kumail, his family matters, despite the tensions and differences that lie between them.
We also see a different family dynamic in how Emily?s parents stuck by her every second while she was in the hospital and at home recovering.? They were very protective over her when Kumail came around as they believed he was no good for Emily.? And then when they realized that Kumail was the right mate for her, they tried to encourage that relationship.
I experienced so many emotions while watching this movie.? It was genuinely funny–and not all of the funny scenes were in the trailer which is unfortunately what happens a lot these days. ?(I even almost cried a few times.)
Bottom line ? it?s a great movie.? It?s witty, smart, and eye opening.? I would highly recommend it.