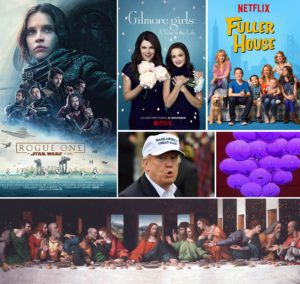 some say
we live in an age
of nostalgia
round up the recent remakes,
the reboots, the revivals,
the side stories,
the things even just
intentionally reminiscent
of?other, older,
more established things,
and prepare to be
flooded in the fond feels,
deluged in the delights
of yesterday, of yesteryear
remember?Star Wars?
you don't have to.
Disney will ensure
a regular fresh hit
from here on out.
want more Harry Potter?
no problem.
muggles everywhere
will always need educating
on fantastic beasts.
need you some Dory again?
some female ghostbusters?
girls of the Gilmore persuasion?
a differently, yet still
extremely packed abode?
Westworld?for the 2010s?
all them stranger 80s things?
for some reason,
a bazillion different spider-men?
you are?super. duper. covered.
i kinda bet you always will be
and sometimes, tbh, such things
are bad;
bad as in lack-of-quality bad;
maybe it's a lack
in the original source,
maybe a misfire –
a spoiling of legacy –
maybe just
too much
too soon
of a good thing;
whatever the case,
let's agree:
sometimes,
nostalgia is bad
and sometimes,
unfortunately,
nostalgia is?ugly;
South Park's recent
memberberries storyline
reminds us what a
short walk it can be from
simple nostalgia to
nationalism,
racism, sexism –
of the inherent danger in
seemingly innocent desires like
"make America great again"
but sometimes,
nostalgia is?good;
good as in?quality good;
good as in
more-of-a-great-thing good;
good as in –
South Park be damned –
i think the new?Star Wars
was cool,
and?yeah, Rogue One probably
will be too,
and yeah, J.J. Abrams
could probably reboot
the "Star Spangled Banner"
and make it awesomer
and,
sometimes,
most importantly,
nostalgia is even
more good than that;
way even more good
sometimes it's good in a
that's-where-i-come-from
sort of way, a
this-is-what's-important
sort of way
an
ah-yes-that's-what-i'm-about
sort of way, a
that's-who-we-are
sort of way
an
i'm-still-the-same, but
i'm-not-the-same
sort of way, a
this-means-this-
for-me-now
sort of way, an
i-own-this-anew
sort of way
you know:
a nostalgia-as-ritual
sort of way;
a vital,
bread-and-wine-
in-remembrance-
of-me,
write-my-words-
on-your-heart-and-
teach-them-to-your-kids,
everything-old-is-new-
is-old-is-new-is-old-
-(is-new)-
sort of way
you know:
the way where –
far from not
being able to look forward
for looking back –
unless we look back,
we don't even know
what forward means