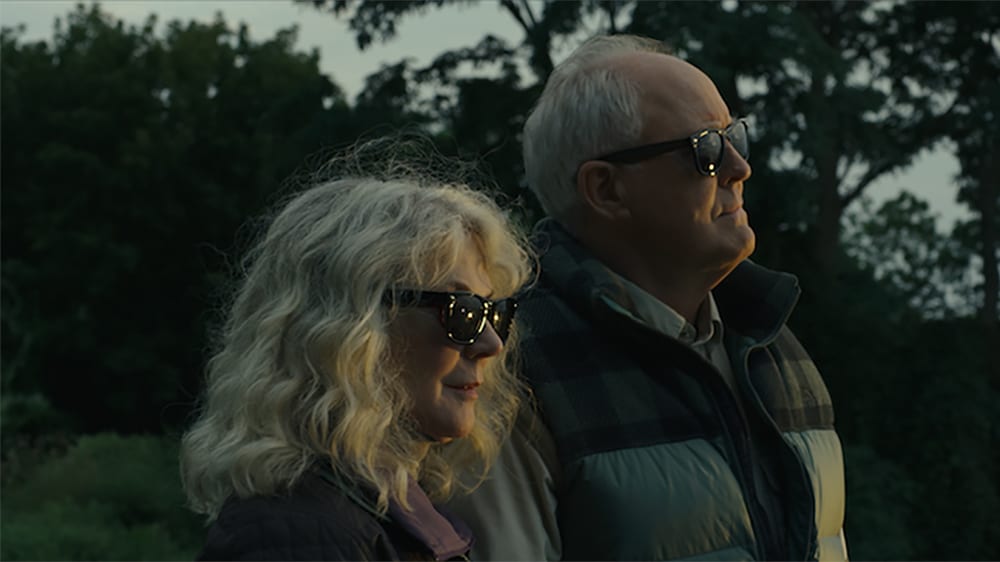 In the Sermon on the Mount Jesus says, ?Do not store up for yourselves treasures on earth, where moth and rust consume and where thieves break in and steal; but store up for yourselves treasures in heaven, where neither moth nor rust consumes and where thieves do not break in and steal. For where your treasure is, there your heart will be also.? (Matt. 6:19ff, NRSV). In The Tomorrow Man we see two people who in different ways are storing up eccentric treasures that overwhelm their lives. But when they manage to come together, they get the opportunity for a more fulfilling treasure.
Ed Hemsler (John Lithgow) is a survivalist who expects an apocalyptic societal meltdown to come any day. He has stocked up on everything he?ll need to get through the coming chaos. He sees Ronnie Meisner (Blythe Danner) paying with cash at the store and assumes she is a kindred spirit. He is also attracted to her romantically. After a few misfires, they begin a relationship. But they both have secret obsessions. We know Ed?s, but Ronnie?s remains hidden from us and Ed for most of the film. For both Ed and Ronnie, the ?treasures? they are accumulating serve to fill a void in their lives that grow from loss and insecurity. When they come together, perhaps if offers them the chance to fill those voids with the love of another person.
There is also a subplot involving Ed?s son Brian (Derek Cecil) who is semi-estranged from Ed because of Ed?s strident pessimism and survivalist outlook. Ed spends a good deal of time on the internet pushing his apocalyptic worldview. Brian would just like a relationship with his father that wasn?t seen through Ed?s lens of paranoia.
This is a senior romcom, but the comedy doesn?t quite click. Lithgow and Danner do a nice job of portraying the awkwardness of new romance (they act very much like teenagers in the early stages), but it?s also kind of hard to buy into their growing relationship. Those who read my reports from the Newport Beach Film Festival, might recall that I only rated this film ?fair? on my audience ballot.
The issue of trust in material goods becomes the issue that begins to come between Ed and Ronnie. But at one point the question of finding what will bring you joy is raised. There is a certain Marie Kondo vibe at this point, but even at that, it doesn?t necessarily solve the problems between Ed and Ronnie. But the realization that the joys they have from the things they have accumulated may not be totally fulfilling is what gives them a chance to move into a new relationship. That offers us an opportunity to consider the various possessions and ideas that clutter our lives. Some may bring us joy, but they may also interfere with finding deeper happiness. As Jesus said, ?Where your treasure is, there your heart will be also.?