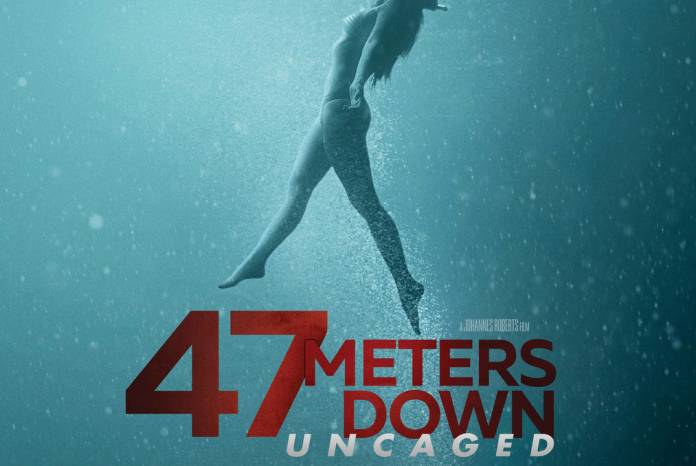 47 Meters Down: Uncaged tells the story of four teen divers who discover the sunken ruins of a Mayan city in the heart of Mexico. However, as the young women investigate the mysterious caverns, they soon find themselves trapped in the abyss by deadly great white sharks. With their air supply steadily dwindling, the girls must make their escape through the underwater labyrinth of claustrophobic caves in order to survive.
Directed by Johannes Roberts (The Strangers: Prey at Night, 47 Meters Down) and co-written between Roberts and Ernest Riera, Uncaged is a follow-up to the successful first film in the series which starred Mandy Moore. Whereas the first film told the story of two young women trapped in a steel cage under the water, the sequel instead leads us into a series of mysterious underground caverns in the heart of Mexico. (Hence, the 'uncaged' moniker included in the title.) What's more, given the fact that Uncaged boasts an entirely new cast, the two films are tied together only through their mutual interest in shark-fuelled thrills.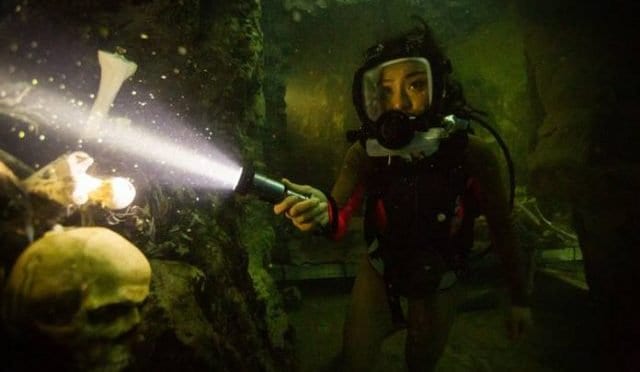 As sisters Mia and Sasha, stars Sistine Rose Stallone and Corinne Foxx (daughters of Sly and Jamie respectively) have good chemistry as estranged sisters who must get past their differences in these dangerous waters. Within the story itself, Uncaged also portrays the strength and courage that women possess, especially when they care enough to stand together. Although estranged at the film's outset, Mia, Sasha and their friends soon learn each other's value as they face certain death together. 
Still, in all seriousness, the real reason films like this draw a crowd is the sharks and Roberts clearly excited at the opportunity to play in the deep once again. With the new setting, Uncaged shows that he understands what's required to direct underwater thrills. Liberated from the shackles of a film in one small location, Roberts maintains the claustrophobic atmosphere of the first film while revelling in the fact that there are more locations for shark-infested mayhem. Having not found a hearty meal in hundreds of years, these sharks have evolved in the dark with heightened senses and are clearly very hungry. Thankfully, the film works well as a ride that offers the necessary jump scares and tense moments that makes films like these so much fun. (Without spoilers, one scene where the leads are sinking deeper into the watery abyss with nothing but a flashing red light works particularly well.) 
Although the fact that this has become a franchise remains somewhat surprising considering the gimmicky plot of the first film, 47 Meters Down: Uncaged floats on its own merit. While it doesn't quite make you 'scared to go back in the water', Uncaged is a fun film that offers all the bite that its audience will be looking for this summer.
47 Meters Down: Uncaged swims into theatres on August 16th, 2019