Aretha Franklin, The Queen of Soul, was a well-established star in 1972 when she chose for her next album to return to the music of her youth?gospel. The daughter of a Baptist minister, singing in church was where her sound was born. In Amazing Grace, we travel back to the two-night recording session/church service that was the basis of what became the most popular gospel album ever. It was filmed for Warner Brothers by Sydney Pollack, but because of technical problems, the film was not finished for over 40 years. Now it has completed and it is wonderous?for the music, for the time machine value of looking back to that time, and for the spiritual value the music continues to evoke.
The event took place at Rev. James Cleveland?s New Temple Missionary Baptist Church in Watts. Before the first night?s performance, Cleveland (himself part of the gospel music pantheon) reminded the crowd that this was a recording session (and there may be retakes), but that it was also a church service, which meant that it was designed to ?give vent to the Spirit?. That sense of worship is an important part of the film as well. The vibrancy and energy of the African-American worship that is represented here, may seem excessive to those of us who could better be described as the Frozen Chosen, but the liveliness of the music and the intensity of Franklin?s singing and of the other musicians, is infectious. As we watch we are caught up in a bit of the spirit of that time and place.
It is because worship involves community that the album and film were recorded live in a church. Certainly she could have recorded gospel music in a studio, but what we see in Amazing Grace, though, is not just the artistry of an amazing singer (although it is stunning to listen to her). There is also a synergy that comes from the interaction of Franklin and Cleveland, the Southern California Community Choir that serves as backup, and the audience that is very much involved in the performance. (As one who has preached, I should note that I was never able to make a good recording of a sermon in an empty room. It?s just not the same without others.)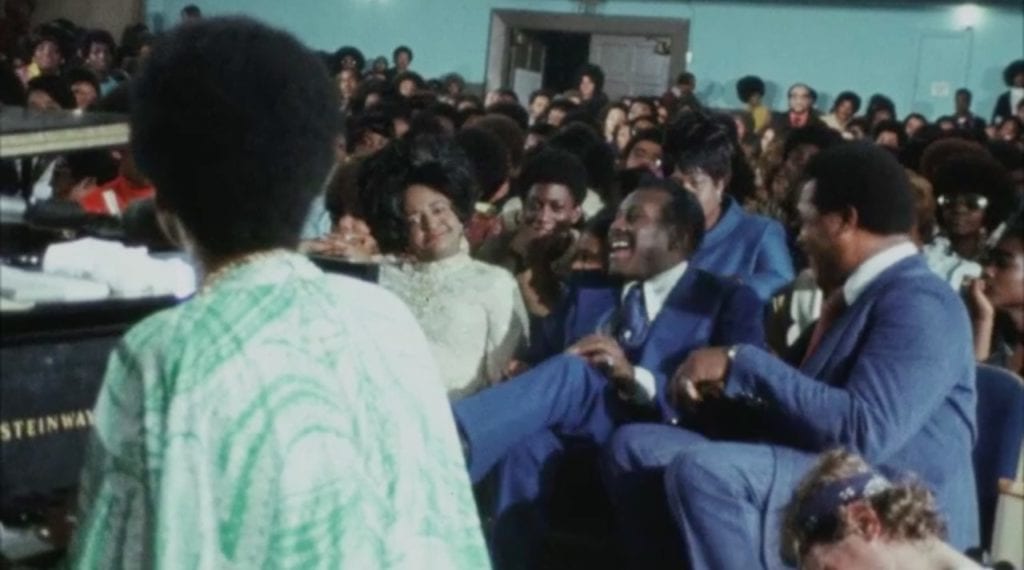 I should note that I saw this in a large theater with fewer than 10 people. That is unfortunate because (a) there are a lot of people who would love this film, and (b) sitting in isolation detracted from the experience as we look at the packed pews in the church. That is a reminder of just how much worship is not only a matter of self, but also of community. This film is designed to take us into that place of worship?not as dispassionate observers, but to be engulfed in the Spirit, just as those who were there were.