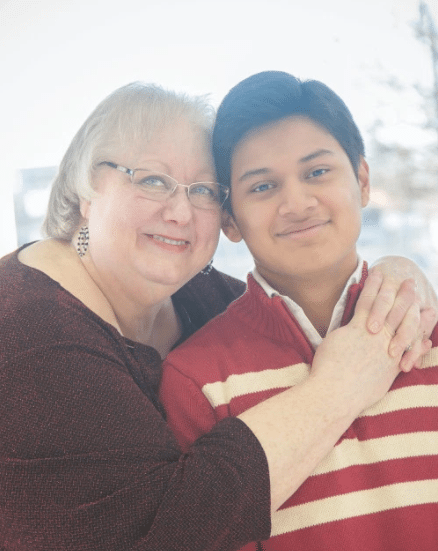 Skiing, sledding, snowball fights, mugs of hot cocoa?winter means different things to people.? In the case of Joyce Smith, it means something more.
Life.
In her book The Impossible (releases today via Hatchette Press), she tells the story of her son John, a child she adopted from Guatemala.? When he was 14 years old, an event occurred that is nothing short of miraculous.? I recently had the opportunity to talk with her about John and why he is receiving such large amounts of attention?all from a local news story.
Smith?s life wasn?t a perfect one. ?As she put it, she had her own ?littered trail of disasters.? Her first child was given up for adoption and she nearly committed suicide at one point.? But she adopted John from Guatemala and watched him grow up into a typical teenager who was pretty good at basketball. After one game in January 2015 where he scored the winning basket, he was asked by a friend to spend the night.? It just so happened that a cold spell caused the local lake to freeze over, so after throwing rocks to test the ice, they walked around on it.? The next day, they tried it again?but the ice gave way and both fell into the 40 degree water.? Nineteen minutes later, John was pulled from the lake completely lifeless (his friend made it out okay). Smith remembers telling God in a loud, demanding conversation, ?You can?t take my son from me. We asked for him seventeen years ago.?
John was rushed to the hospital as doctors tried to revive him and increase his 88 degree body temperature.? Nothing was working.? He was, by all accounts, dead.? The doctors wanted to let Smith see John before they called the time of death, so she entered the room and continued praying. An hour later, one of the nurses picked up a faint pulse.? This was amazing in its own right, but there were many issues John was dealing with (multiple organ failure, no brain function).? Smith made it clear to the multitude of doctors and nurses that there would be no negative talk around him?even though he wasn?t expected to live through the evening.? ?Life and death is in the tongue,? she told me.
Nineteen days later, John walked out of the hospital on his own as if nothing ever happened.? Three weeks after that (40 days in total), he was released from all of his doctors and given a completely clean bill of health.
At its essence, The Impossible is a story of miracles.? It is also a story of hope, prayer, and how a community rallied around one of their own.? A local news reporter covered the story, and it went viral quickly.? The whole series of events has been likened by Smith as a ?tapestry of miracles,? from the specific doctors helping John to the local firefighters testing out cold weather retrieval gear four days before the accident in the exact same location John fell through the ice.
Of course, not every occurrence of drowning ends in a miraculous story like John?s. Smith said that God answers our prayers, but not always how we want.? In this case, he wanted to let people know that he has the final word in all situations.? It requires trust and faith akin to Abraham, who did whatever God asked without question?even to the point of nearly sacrificing Isaac (see Genesis 22:1-19).? He wasn?t perfect, but God called him a friend.
The Impossible comes out in book form today, but Smith mentioned having a conversation with a gentleman for 45 minutes while waiting to be interviewed on television. The gentleman turned out to be Devon Franklin, who is about to begin filming the movie version of the book through 20th Century Fox.? I?m sure we?ll take a look at that once we get closer to the film?s release date.
(Thanks to Roya Eftekari from Rogers & Cowan for setting up the interview)